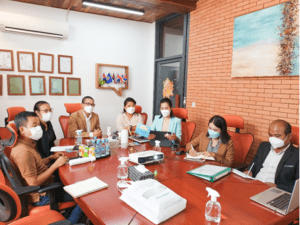 Phnom Penh- October 28, 2021- In line with the Government's vision of "provision of universal access to clean and safe water for all by 2030" and in line with the vision of Tiger Water Solutions and K&K Pipe Cambodia Co. Ltd, both companies set a new milestone to increase cooperation to expand the water supply distribution system and storage in Cambodia. Both are willing to announce the signing of a Memorandum of Understanding (MoU) to promote partnerships, increase expansion of production and management to a wider market in Cambodia and South East Asia countries.
Mr. Bunna Kim, Chief Executive Officer (CEO) of K&K Pipe Cambodia Co. Ltd said the partnership between the two companies marked the beginning of a new chapter for water supply companies focusing on bring high quality products to water supply, agricultural and industrial markets. This partnership is possible because both companies have the same vision and will to provide high quality products and technologies from our factories in Cambodia and Australia to our customers. In addition, the CEO hopes that the two companies will support each other in bringing both products to expand the domestic and international markets.
Mr. Matthew Redshaw, Managing Director of Tiger Water Solutions, says he is pleased to partner with K&K Pipe Cambodia and strongly believes that the partnership will help expand the market and management of both companies. And he will share water technology techniques to K&K Pipe Cambodia and support each other for the growth of both companies. He agreed to plan to organize mutual technical training activities and study exchanges to the factories between the two companies when the COVID 19 situation is relieved.
Tiger Water Solutions manufactures quality water storage tanks with a capacity of 18,000 litters to 2,000,000 litters in accordance with Australian standards and distributions throughout Southeast Asia. This water storage tank can be used as a rainwater filter, a storage for water supply, a reservoir for rural water supply, for irrigation, for mining and for wastewater.
K&K Pipe Cambodia prides as a Cambodian owned manufacturing of PE pipe fitting and piping systems for water industries, irrigation systems, and other industrial applications. With over 20 years' experience, we have an excellent understanding of the challenges the water industry faces. Our experienced team actively work and collaborate with customers and the industry to provide clean, safe, secure and innovative water solutions today and into the future.
The signing ceremony of the Memorandum of Understanding between the two major companies took place on Thursday, October 28, 2021 at the office of K&K pipe Cambodia, located on Street 130, Sangkat Ponhea Pon, Khan Prek Pnov, Phnom Penh from 9:00 am.
The signing of the Memorandum of Understanding between the two major companies is a strong testimony that both companies are committed to providing the highest quality products and technologies from own manufacturing factories in Cambodia and Australia. The synergy of the two products is a complete solution to help the water sector in Cambodia to be sustainable, efficient and effective for people who are in need of clean water in urban and rural areas.