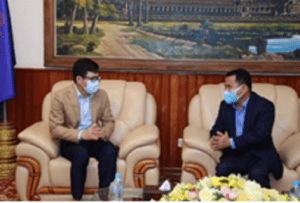 Cambodia is one of the countries in the world that has been hit hard by the epidemic of Covid 19. This difficult situation continues to affect many Cambodians, both in terms of mentality, livelihood and living situation. With the main mission of the company in contributing to the Royal Government of Cambodia in all humanitarian activities, Mr. Kim Bunna, Chairman of INTHANOU (Cambodia) Trading Co.Ltd, handed over some donations to the Kandal Provincial Administration on August 27, 2021 at the Provincial Hall to be used in the prevention of the spread of Covid-19 diseases in Kandal province.
The donations handed over to the Kandal Provincial Administration consists of two large boxes of Chinese medicine Lian Hor King Qing, equivalent to 500 boxes, 20,000 (twenty thousand) medical masks, one ton of Battambang organic rice, equivalent to 100 sacks and 100 boxes of instant noodles.
HE Kong Sophorn, Governor of Kandal Province, thanked the Chairman for his contribution to the Royal Government of Cambodia in preventing the spread of Covid 19 epidemic. HE Governor also highly appreciated the participation of the private sector, which is an active partner of the Government in participating in this important work. For example, INTHANOU (Cambodia) Trading Company, which has always provided materials and funds for various humanitarian campaigns with the Kandal Provincial Administration until now.
In addition to contributing to the prevention of Covid disease, HE Governor also commended INTHANOU (Cambodia) Trading Company, a leading local company in distributing K&K Pipe Cambodia, a high quality product for clean water supply , agriculture, construction and other sectors to help people get access to clean water supply to the premises and contribute to rebuilding the economy through several integral sectors such as agriculture and construction.
INTHANOU (Cambodia) Trading Co.Ltd has a strong vision and willingness to work with the Government to improve productive sectors such as water supply and sanitation by expanding pipelines to all people's homes, agriculture, helping to create a robust agricultural systems including modernization of the irrigation of agricultural crops to obtain high productivity and the construction sector in creating a quality construction engineering system.